Site preparation
First, one should determine the soil conditions to ensure it is suitable for the super structure and total occupancy load. When installing the super structure, it is important to determine the soil density with a soil test probe especially on where the footings (base pad) will be placed. Soil test probe can be done with soil penetrometer.
For units being placed in colder climate regions should meet the minimum soil bearing capacity to support the weight of the completed unit.
Plan site access to ensure there are no obstacles in the way of the structure's delivery path.
Determine the location of the unit on the site and the site layout.
Clear the area of foliage and grade the unit site for proper drainage.
Choose the holding capacity of ground anchors if required.
How terrain affects site prep?
The type of land you choose for your unit site can also affect some of the necessary site prep tasks. Parts of your site prep can vary depending on whether your site is in a mountainous, swampy, plain, desert or farmland area. The type of terrain you live on can affect things like:
The type of footers your super structure needs – your terrain will affect the density of the soil, which determines the depth and dimensions of the footing design.
Seismic zone – the seismic zone your unit site is located in can also affect the design of your footers to ensure your unit is stabilized for your seismic zone.
Flood zone – Depending on your flood zone, your unit may be required to be a certain distance off the ground and could require a specific type of prefab foundation as well as any tie-down requirements.
You will need to make sure your site is properly crowned, meaning it is built up and properly compacted to ensure drainage goes away from your unit. It is important to make sure your land is crowned to prevent flooding or water from building up inside or underneath your unit.
The unit is designed to resist wind speeds up to 110 mph. wind zone 3. Anything less will not work for all sites.
Leveling
For standard install please review above ground piers details>>
Please download drawing and spec's of the ABS pads (footing) and  anchor accessories here>>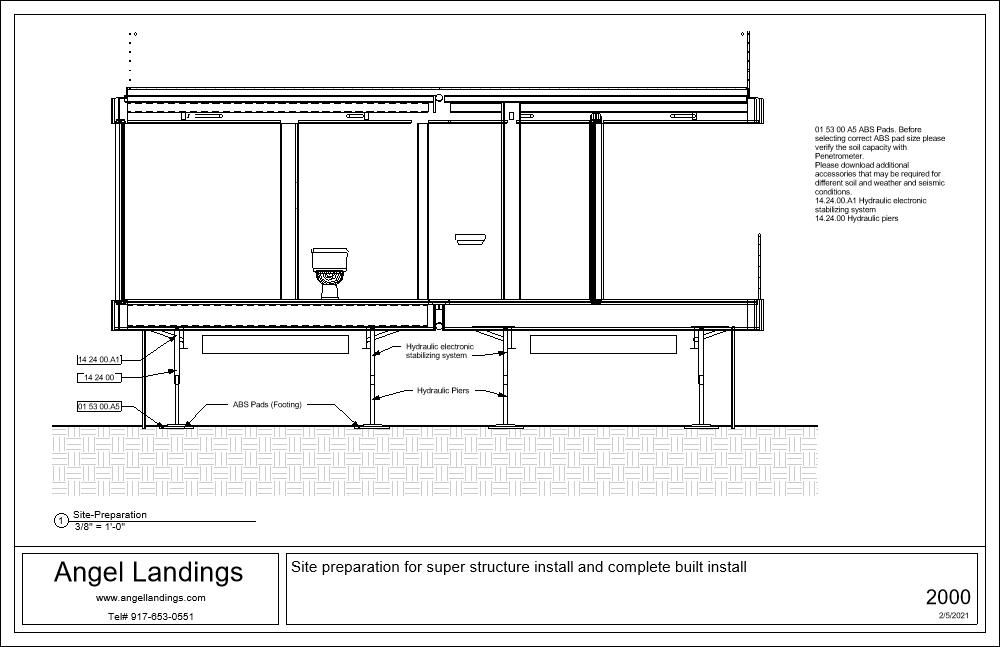 ---