Carport Line designs are inspired by car contour lines . Using tensile structural fabric, we can make elegant carports that are above and beyond typical off the shelf carport structures.
Carport Line is easy to install. There is minimal permit paperwork required in installing carports in most counties in United States. However, structural design is required for each location.
Please see FAQs for installing a carport below:
The total carport installation process takes around 1 to 2 months. A typical carport covering an area for two cars is 350 SqFt.
1. Prefabrication process takes 1 month:
Most counties in the USA require a building permit for a carport that is more than 150 SqFt.  For each county the load and winds requirements vary, this can change the structural design.
2.  Fabrication for each order is 1 months to fabricate:
Tensile Fabric and cable components.
55" OD steel tube, powder coated finishes.
​​​​​​​3. Post and fabric installation takes no more than 1 to 3 days to install.
For onsite work, one would just need to hire a handy man to install the post frames, cables, turnbuckles, fabric, and helix anchors into the ground. No special equipment is required.
If the carport is being installed on top of a pavement, additional engineering evaluation is required, one would require onsite inspections for any epoxy connections, and in most cases install 6ft x 6ft x 6inch deep concrete slab for each post that can be part of the driveway slab.
Carports can be designed in various configurations. Typically, carports are designed for one or two cars, however, we can design carports that cover more than 2 cars.  Our site design includes:
All the setbacks required by the owner and local county's building zoning guidelines.
Where the water will drain off from the fabric structure.
Rendering that shows how the project looks on site.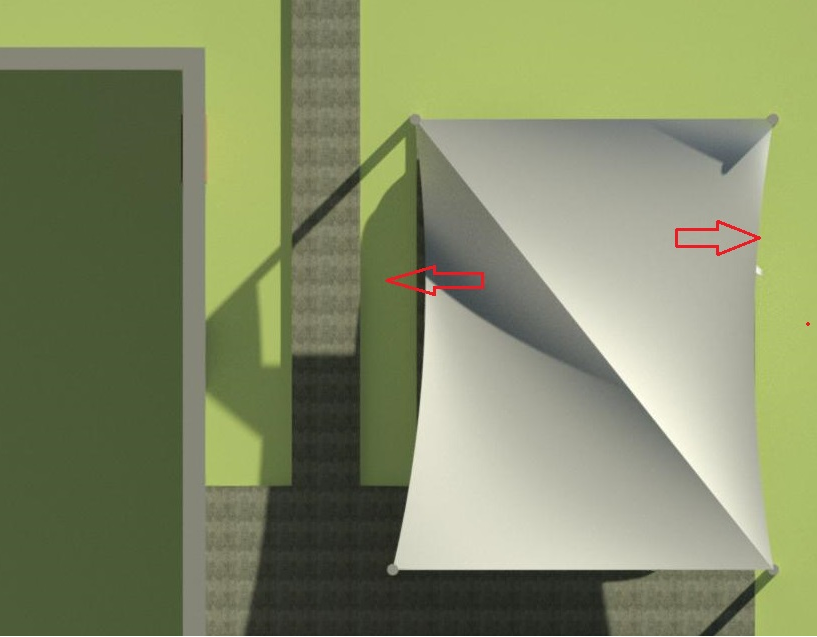 The average cost for a 2 cars carport structure fabrication (350 SF) starts at
$20,700  - see cost breakdown below.  
$5000 for filing drawings per site - include engineering drawings.
$3500 for cables and turnbuckles + shipping cost
$4000 for fabric + shipping cost
$4500 powder coated painted black pipes + shipping cost
$2500 for welding + delivery cost
$1200 for installation
Additional cost:
For onsite work, the cost varies by local laborer cost. It should not take more than 2 days to install a 350 SQFT Structure
The cost of shipping material varies from each supplier.
For custom fabric colors and finishes cost extra.
We provide custom carport design services. Our fees for design service start at $10,000 USD for double car wide garage.