Before starting all construction work it is important to follow all local city & state safety guidelines such as OSHA.
In urban and suburban locations, it is best first to fence off your site to prevent anyone entering the site during construction for their and your safety.
When a unit or structure is being shipped to the site it is important that trailer truck should not go beyond the designated roadway that may require off roading capability. For off road shipment the unit or the structure should be tied to trailer tug which is controlled by remote control and can handle off road conditions. Unless a temporary roadway is made for the trailer truck.
There are many types of trailer tugs out there for different uses such as holding up the complete unit in an equal level position when moving on extreme slopes, so things do not slide off the unit when being moved to a specific location.
Construction kit unit comes with in-built super structure on top of the chassis. All other components & material are shipped in smaller containers along with the super structure or on a separate delivery truck. Each container contains materials for specific trade and sequence to be built. The containers can be used as temporary sheds to store all material required for assembly during construction.
Construction logistics for a construction kit are:
1. Before shipping please verify if there are no obstructions such as powerlines and trees that need to be protected or removed so that the units are delivered without any problems or delays. Please verify clear path to delivery with the towing company first before starting the delivery process.
2. All super structures are completed on a factory floor and shipped by connecting the super structure tongue to the trailer truck 5thwheel hitch. Please note sufficient tongue weight is required to stabilize the trailer frame when towing.
3. The wheel-axle is added directly to the I-Beam frames of the superstructure chassis so that when it is delivered to the site it does not need to be lifted of a flatbed by a crane. The maximum height of a superstructure with wheels that is allowed by federal highway safety is no more than 13 feet 6 inches. To have a taller superstructure a smaller radius wheels with more axels can be used instead.
4. Once the superstructure reaches its destination, a remote-control tug is used to move the structure onto a off-road location.
5. The construction kit material can be taken off and placed on site or delivered at each stage for assembly/construction.
6. Before attaching the two units together please locate the location of each unit's marriage line.
Construction logistics for complete unit are:
1. The unit is shipped by connecting the units trailer hitch to tractor trailer truck. Please note a wide body escort service and permit maybe required before shipping to your specific destination. This can be processed by the towing company.
2. On off-road conditions a tug or levelling tug can be used to tow the unit on sloped terrain. Please note the land that unit is transported should not have any hazardous conditions such as unstable soil and ground openings.
3. Crane may be used if the unit needs to be located on hard-to-reach terrain or platform.
Spec:
- Module Mobile Home Mover by Cutting System Inc. Model# CS1_115 Platypus & CSI 465_Housetug
- In Factory Lift System by Autoquip
For more details and spec's please  download files from this link>>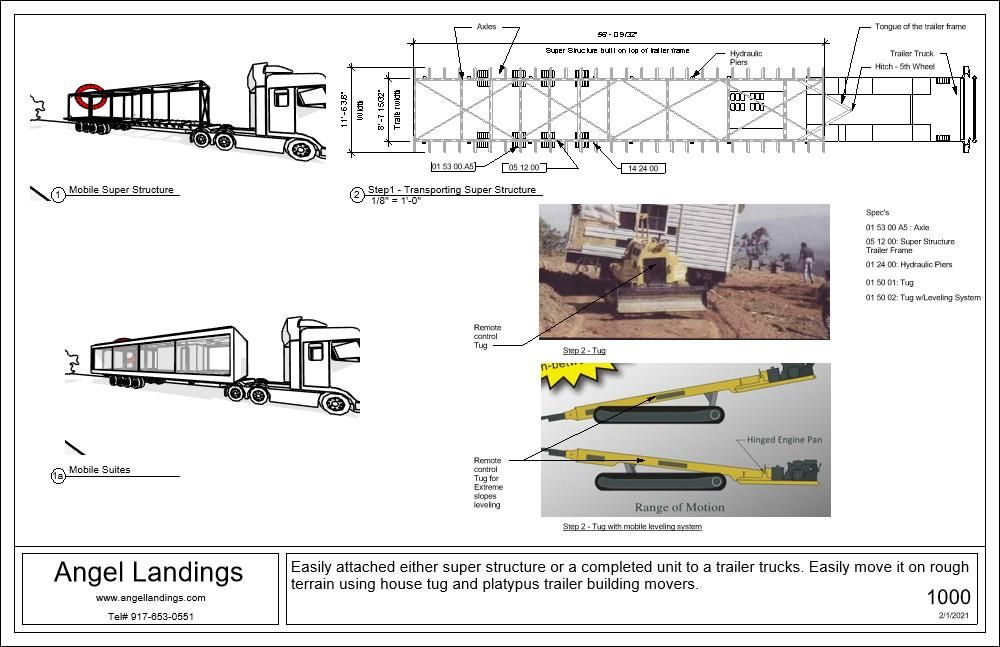 ---