In this environment the best way to make interior space habitable (Covid-19 Free) is allowing fresh air flow thru the interior space naturally. All cool and heating is done my moving the hot and cold air thru the unit naturally from the ground up from exterior crawl space thru the floor then out from the skylight vents.
Applying sustainable design, one can naturally cool or heat interior space using fresh air from crawl space. The skylight fans can ventilate hot air out of the interior space as needed in the summer to naturally cool the interior space. And in the winter skylights bring in direct solar heat from the sun to warm up the interior space.
Ideal sustainable way to position the structure is to have the patio face south on the northern hemisphere. This reduces the entry of solar heat into the interior space during the summer months. And the fixed closed glass face to the north to stop cold northern winds entering the interior space during the winter months.
For additional heat in the winter, one could consider using radiant heated floors.
Skirting the crawl space is particularly important to control temperature thru out the year and allow flow of the fresh air constantly. Ideally in the winter months the fresh air should enter and exit the space from the south facing façade, and in the summer months fresh air enters from the north façade.
Since all cooling and heating is exhausted after each use, this will keep the outdoor fresh air level at its highest levels indoors.
The unit air-system can be split up to 4 rooms. Using this split air-system one can control one rooms temperature or all units.
We also included an outdoor patio just in case one prefers to enjoy unconditioned air.
Specs:
Skylites with built-in ventilation fan by Dometic - Fan-Tastic Vent Fan
Fresh air in-flow units by BROAN – Fresh in
Flexible insulated ducts by BROAN - Flex-Duct 6 inch – DT6W
Radiant Heat Film for Floating floors by Quiet Warmth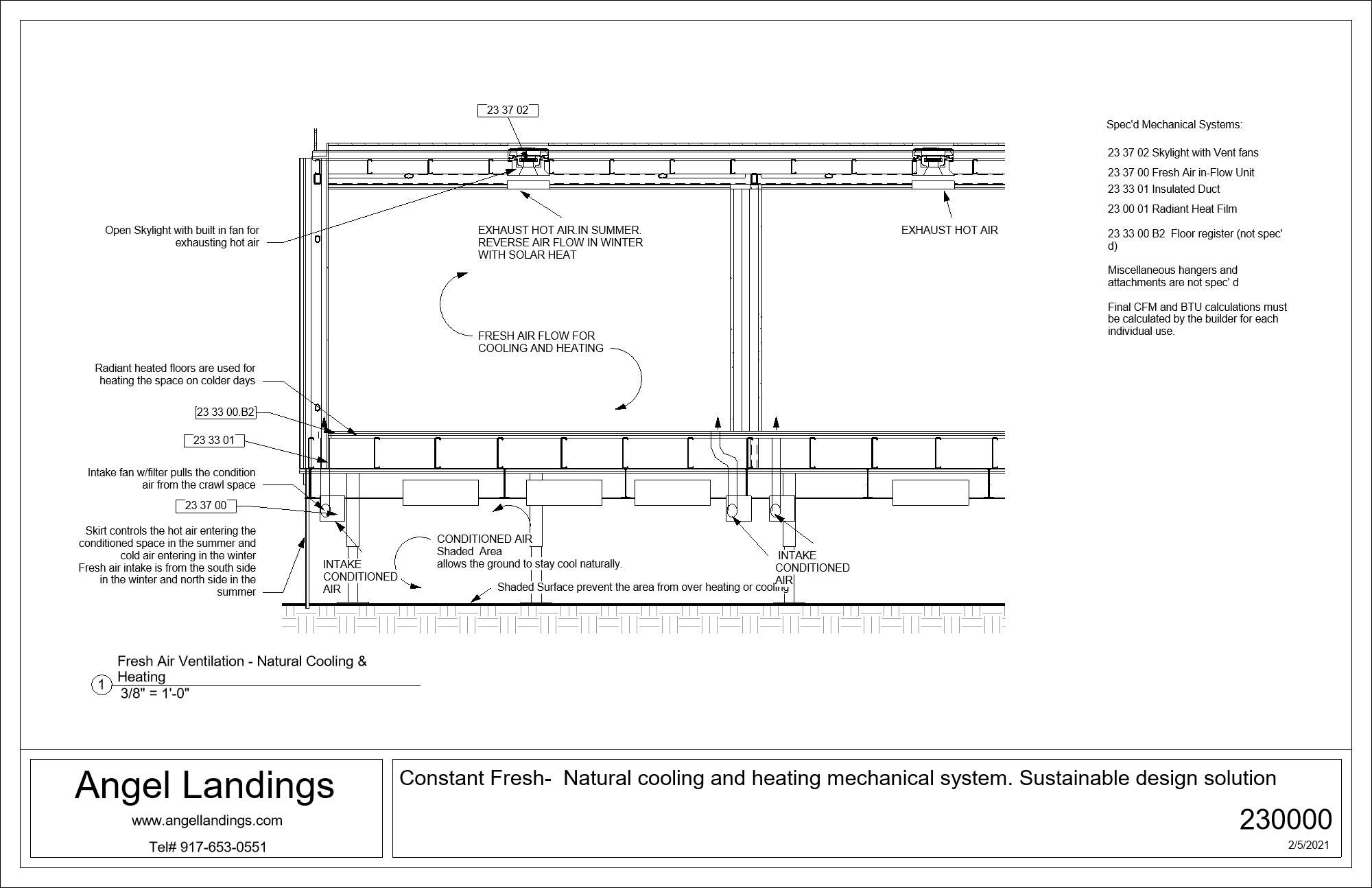 ---