Our UN Sustainable development goals:
1600 sqft cost less than $90,000 to build, and 1/3 of cost to build in the developing world. Installation is 56 Ft long x 27 Wide.
Use natural heating cooling systems vs traditional air conditioning systems.
Designed to not damage the eco system by using above ground foundation/piers. This gives more ground for water to sweep thru.
Flexible space and uses.
Water and waste management system is built on each unit and do not require major ground connections.
Less material and mass are required to build these units then a standard ground up building. This means less heat is dissipated from the units.
Easy to start a new community since these structures can be installed in few days.
Since the units is an open-air system, fresh air is at abundance.  This means good health.
Make living with nature natural.
- Greenhouse tensile structure can be used to grow vegetation during winter months.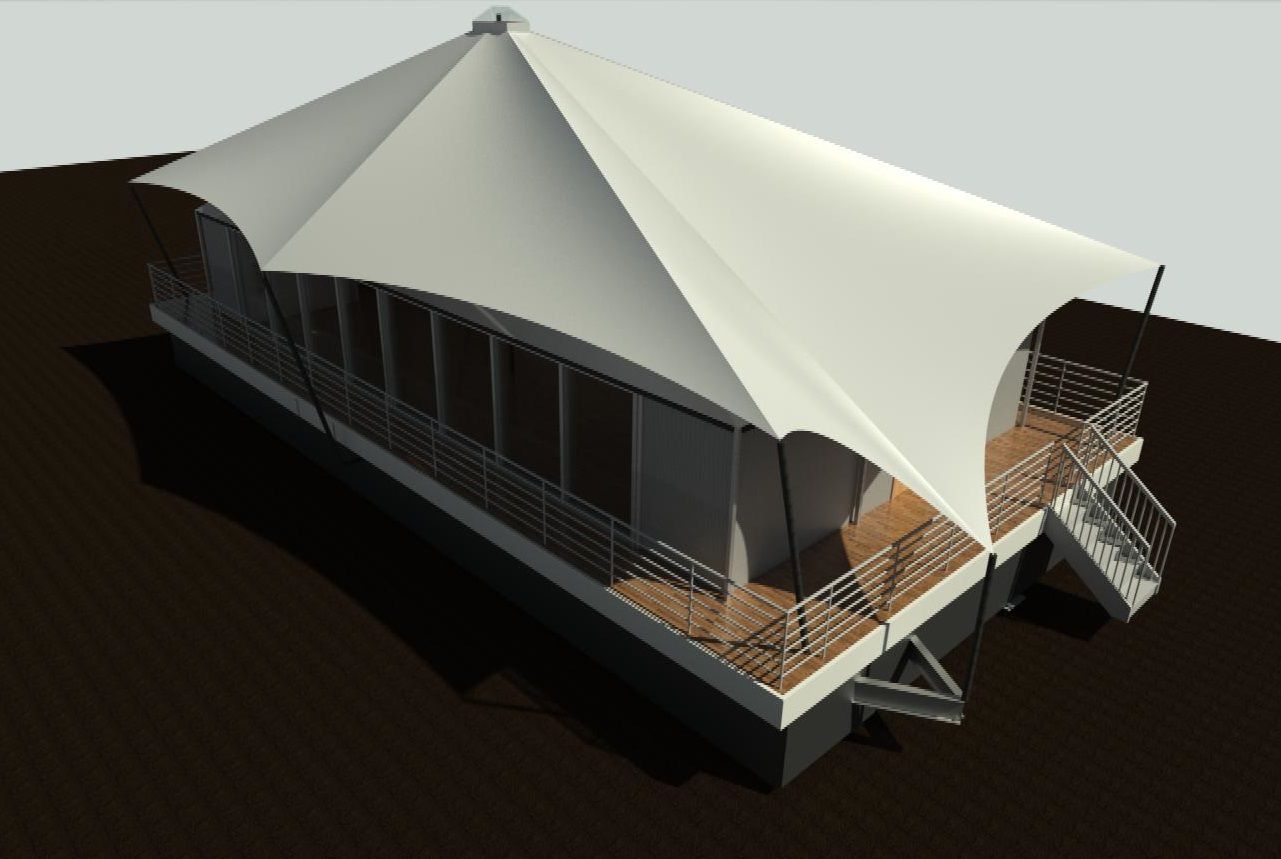 BUILDING DETAILS:
Tensile structure translucent fabric allows solar heat to enter the open space in the winter.
The solar heated air is circulated thru the crawl space so that the heated air can be used in the darker hours.
Naturally stored ground heat is also used to heat the unit thru out the day and night.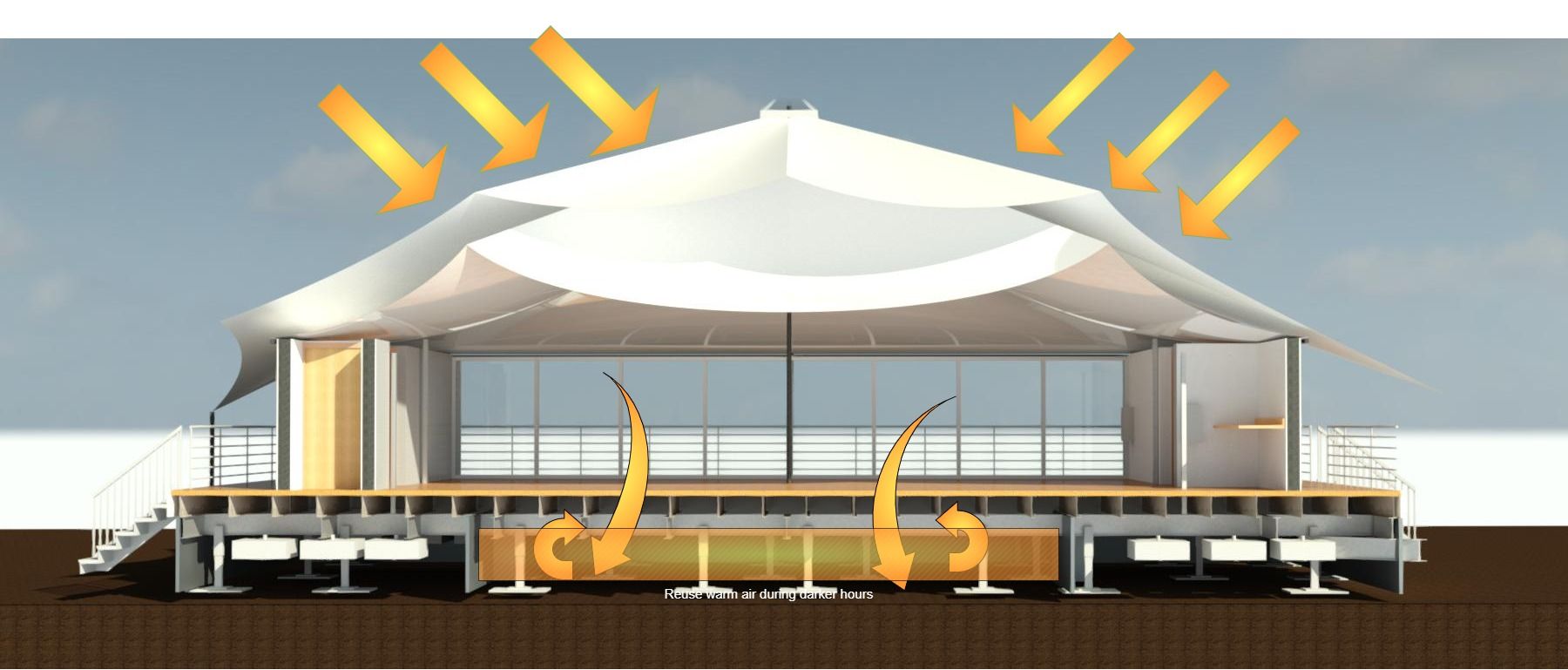 Skylight vents exhaust hot air out.
Warm air is cooled/conditioned by circulating air thru crawl space on naturally cooled ground.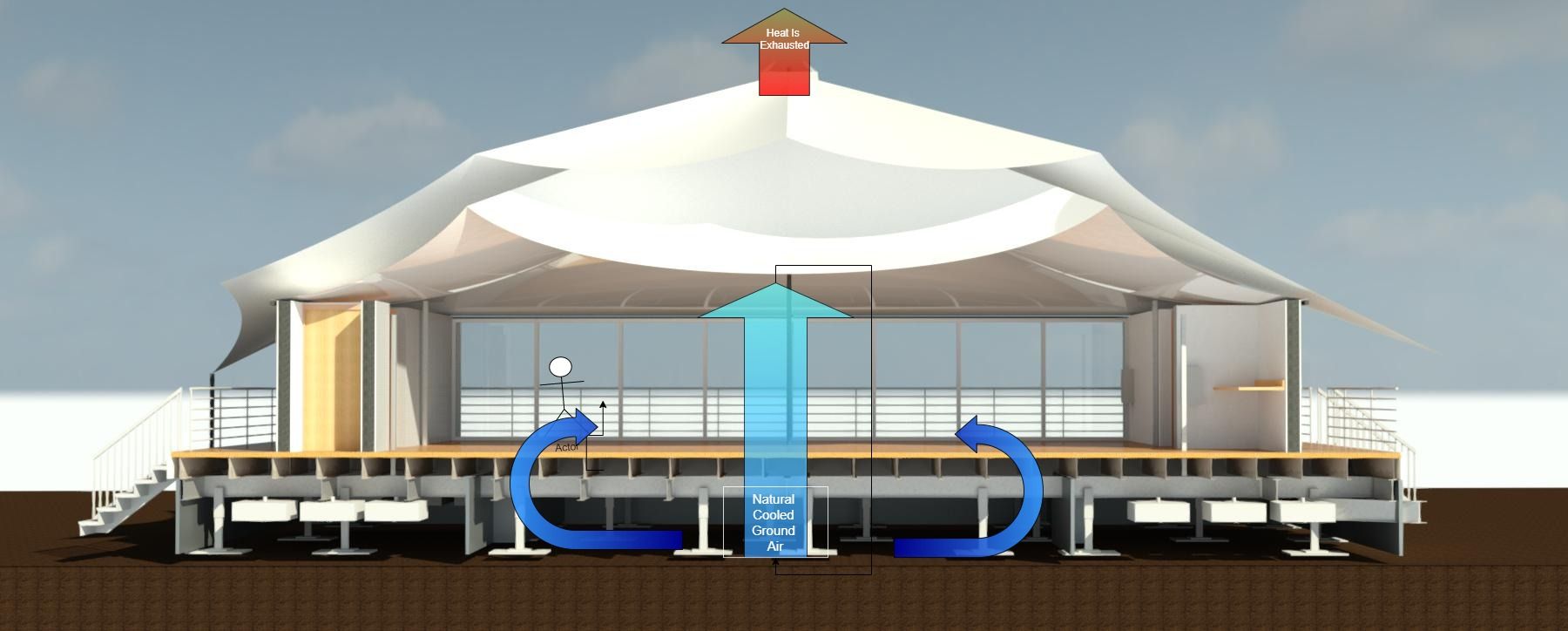 Sustainable construction.
More than ½ of the project is built offsite. Building is shipped by attaching the trailer frames to trucks.
No foundation is required, and the building metal pier footing are installed above ground. This does not disturb the ecological environment below the building.
The tensile roof can easily be assembled by 2 laborers without out using heavy equipment.
Using light tensile structures fabric minimal heat is retained or lost thru out the year.
Scalable battery storage area.
Partial solar tensile fabric can be used instead of translucent fabric to generate electricity.
Minimal Power required.
Most lighting and power switches run on low voltage data line.
Standard power
Plumbing pumps
Mechanical fans
Cooking equipment
Refrigeration