Open-source construction kit Construction Specification Divisions:
0000 >>  Open-source drawing set include 1st floor plan, roof plan, reflected ceiling plan of 1st floor and under the trailer frame, sections and elevations.  
1000 >>   Construction logistics: Only need a building tug and mover to deliver to precise location.
2000 >>  Site Preparation: Maximum of 10% grade is allowed for standard installation. Custom footings and peirs are required for installation on grade more than 10% slope.
3000 >>   CP Seismic Pier (optional) for permanent or temporary installation to hold up the main structure. Anchors are required on unstable environment.  
5000 >>    Framing and structural design is the core part of Angel Landings framework.
6000 >>    Seismic resistant materials applied on interior walls and finishes.
7000 >>  EPDM rubberized roofing system can be easily installed and repaired either on site or off-site. EPDM work well in both hot and cold weather zones.
8000 >>  Using sustainable design fixed glass is applied to Northern exposure to deflect cold winds from the north, and operatable glass are applied on Southern exposure to bring in cool air during the summer.  Please note the Skylights with ventilation fans are under the mechanical systems CS index and are designed to exhaust hot air in the summer.
9000        Finishes substrate are designed so that one can easily remove and add new finishes using wall anchors such as z-clips.
11000 >>  Galley kitchen system: easily add and subtract kitchen appliances and cabinets as needed for flexible use. Galley kitchen are design to control amount of heat emitted from the applicane is minimal.
12000 >>   Powered shades, operated it over POE network.
14000 >>      Mobile structures: use hydraulic leveling and stabilization system for instant install on grade that is less than 5%  slope. Ideal for sporting and concert events.
21000       Fire suppression system (Optional) on underside of the trailer and patio ceiling. System design depend on local fire building code.
22000 >> Scalable sewage and water management system: store water and waste for up to two weeks. And can easily be connected to septic or city run sewage system.
23000 >> Using sustainable design solution one can naturally cool and heat the interior space using solar heat and natural flow of air from under the trailer frame to operatable skylights.
26000 >> Solar power and POE system: Off the shelve system for less than $5K. All lighting and controls can be powered with a PoE system.
27000       LTE Wi-Fi Router for off grid internet connection.
28000 >> Security system. PoE camera system.
34000       Permeable pavers or compact stones to be used for driveways and pathways instead of asphalt/concrete that creates environmental water runoffs.
40000 >>      Budged, estimates, takeoffs and construction schedule.
41000      Hydraulic booms for additional support and lifting.
46000       Shoreline connections for Water, sewage, and power.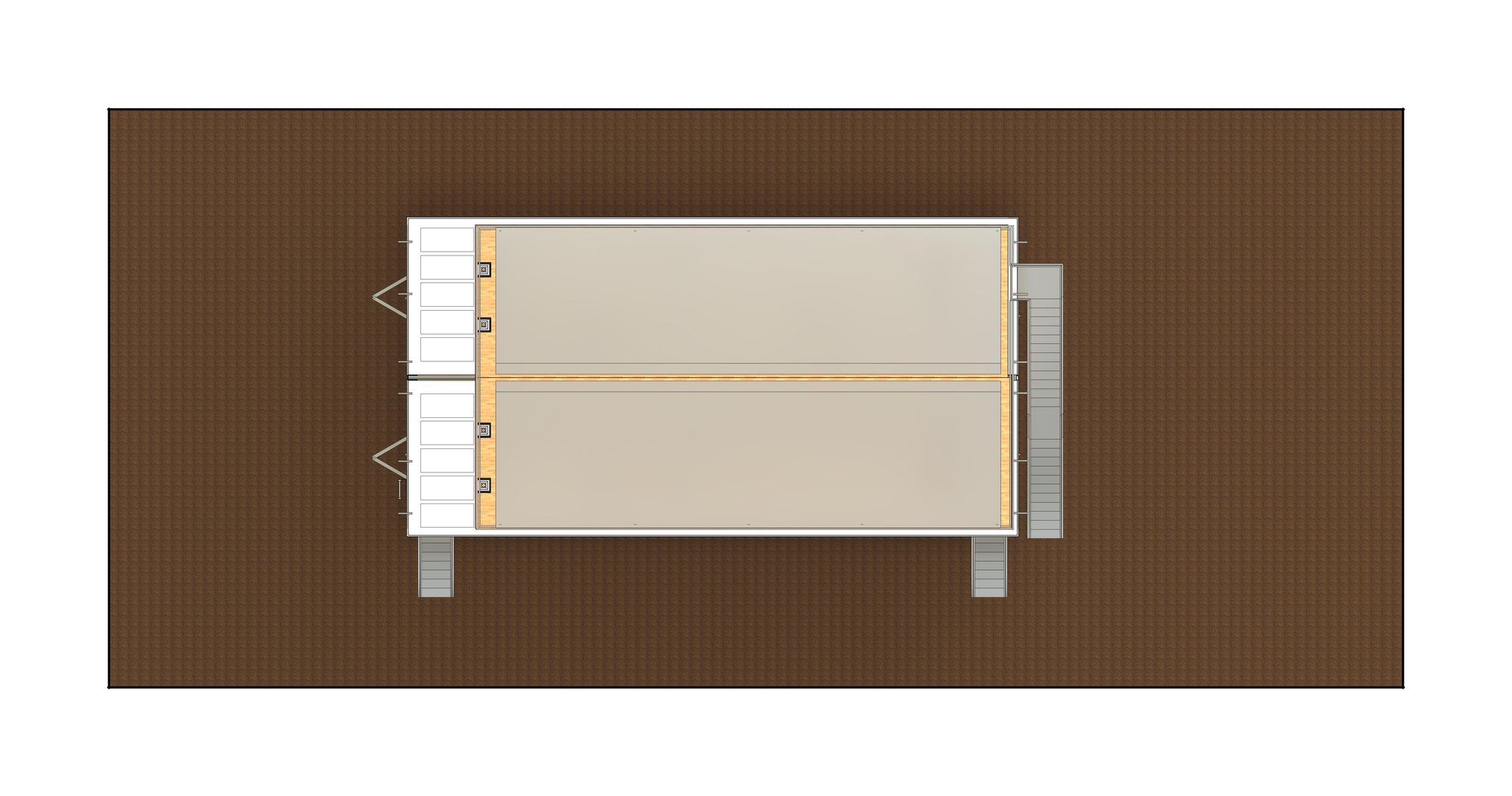 Sourcing