Open-source construction kit Construction Specification Divisions can be used for procurement and construction specifics:
0000 >>  Open-source drawing set includes all necessary drawings and downloadable 3D Revit model that can be used for custom shop drawings and redesign.
1000 >>   Construction logistics:  What equipment and tools are required for placing the unit onsite.
2000 >>  Site Preparation: For standard drop in installation is allowed  on grade that is less than 10%. Custom footings and piers  need to be engineers  for installation on grade that is more than 10% slope.
3000 >>   CP Seismic Pier  for permanent or temporary support  to hold up the main structure into place.   Depending on the site and soil conditions base plate or footing may be required below the piers.
5000 >>    Core part of Angel Landings framework is structural design is that it can hold up to 100 psf load, and moment frame that does not entirely depend  on foundation structural integrity.
6000 >>    seismic resistant materials are installed on interior walls and finishes  so that walls do not get damage by seismic loads.
7000 >>  roofing material EPDM rubberized roofing system is easy to install and repair either on site or off-site.  This roofing material works well in both hot and cold weather conditions.
8000 >>  to deflect cold winds from the northern hemisphere fixed glass is applied on Northern exposure of the unit. To bring in cool air in the summer, operatable glass is applied on Southern exposure to bring.
9000        Plywood is recommended for finish substrate, they usually can hold more weight for holding shelves and equipment then a standard gypsum board.
11000 >>  Galley kitchen system: easily add and subtract kitchen appliances and cabinets as needed for flexible use.  
12000 >>   Powered shades are powered over POE network. POE cable carry power and data.
14000 >>      Mobile structures: use hydraulic leveling and stabilization system for instant install on grade that is less than 5%  slope. Ideal for sporting and concert events.
21000       Fire suppression system can be added to the underside of the building frame to prevent brush fires entering the unit. Fire suppression can be modified to comply to local building codes easily.  
22000 >> Install a scalable sewage and water management system can be useful for temporary events.
23000 >> naturally cool  the interior space using naturally cooled ground air and exhaust hot air out from operatable skylights that have built in vent fans. To heat the space solar heat enters thru the skylights and traps the heat to keep interior space warm.
26000 >> Solar power and POE system: Off the shelve system for less than $5K. All lighting and controls can be powered with a PoE system.
27000       LTE Wi-Fi Router for off grid internet connection.
28000 >> Security system. PoE camera system.
34000       Permeable pavers or compact stones to be used for driveways and pathways instead of asphalt/concrete that creates environmental water runoffs.
40000 >>      Budged, estimates, takeoffs and construction schedule.
41000       Additional support and lifting one can use Hydraulic Booms.
46000       Easily add underground or above ground water, sewage, and power line integration.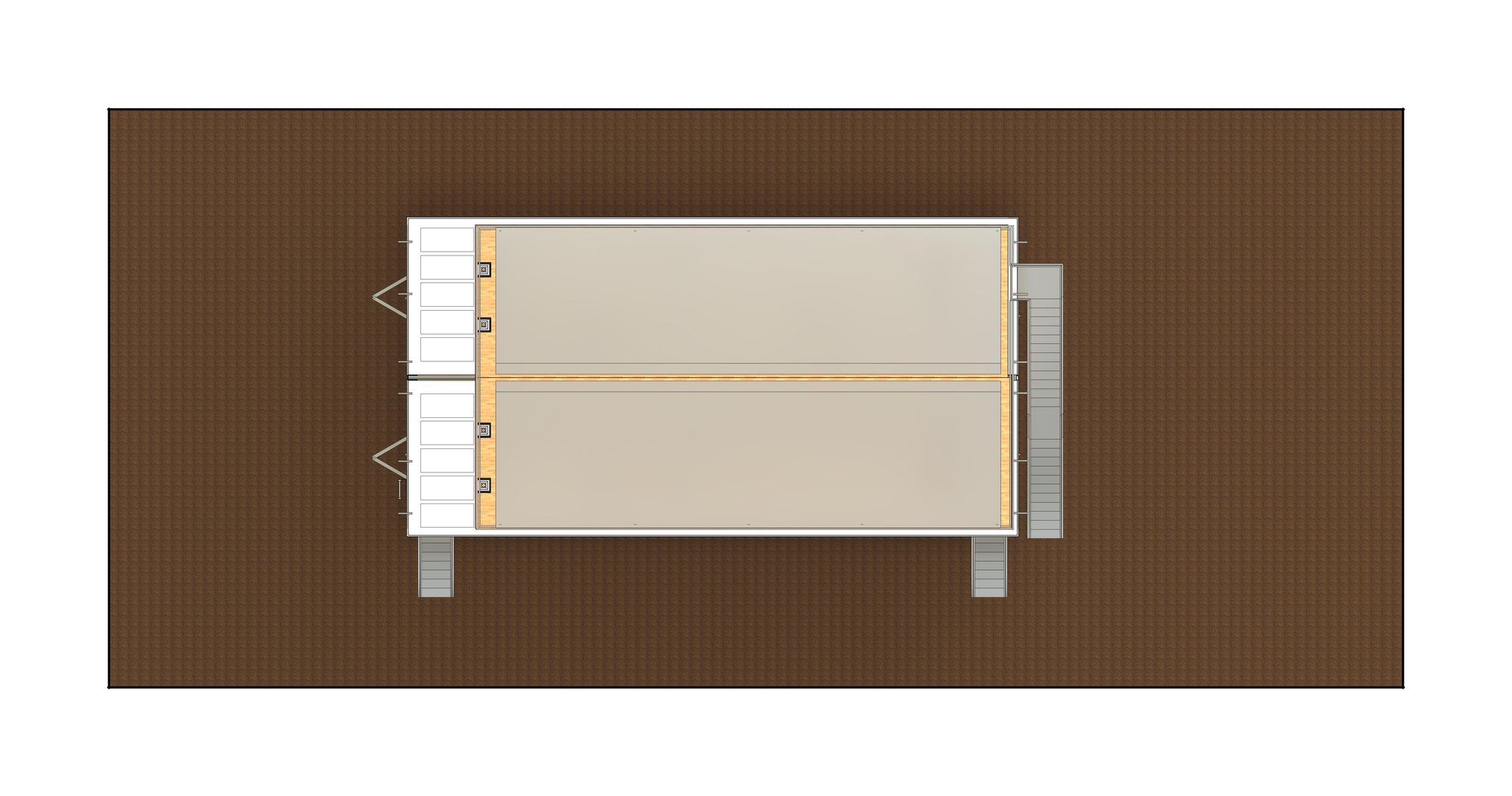 Sourcing